Smiley Faced Stickers Help Kids Make Healthier Food Choices – Says Study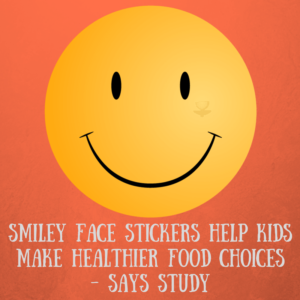 A study introduced in San Diego, California at the annual Pediatric Academic Societies conference showed that strategically placing "Green Smiley Faced" stickers near the healthiest foods in the cafeteria and giving rewards of small prizes like mini beach balls, temporary tattoo or stickers to kids who buy healthy foods is a great way to help kids to make healthier food choices.
The study conducted at a public school consisted of 297 kids from kindergarten to sixth-grade in Cincinnati, Ohio. The study used a two-phase intervention to improve healthy eating among elementary students in that city.
On the first phase of the intervention, the researchers presented smiley faced stickers near the four healthiest foods in the cafeteria: fruits and vegetables, plain white fat-free milk, and entrée with whole grains. After three months, kids were given small prizes like mini beach balls, temporary tattoo or stickers if they chose "Power Plate." The "Power Plate" was defined as food consisting of the four healthiest foods. The researchers monitored the selections of power plate for the five-month trial. And used cash register receipts to determine individual purchases of the healthiest foods.
According to the results, vegetable and fruit selections increased 62% and 20% respectively from 0.74 to 1.2 items per student per day. Plain white fat-free milk sales increased from 7.4% to 48% of total milk sales a 549% increase and chocolate milk selection decreased from 86.5% to 44.6% over the five-month period. Although no significant changes recorded for entrée with whole grains and total milk purchase, the power plate selection increased by 335%.
The researchers with the success of the study concluded that moving forward this technique could be an effective way in increasing kids selection of healthy foods like fruit, vegetables and white fat-free milk in school cafeterias.
Robert Siegel, Medical director at Cincinnati Children's Hospital Medical Center stated, study author, MD, FAAP, stated. "It looks like we found a very promising, low-cost and effective way of improving the nutrition of elementary school children. This type of program may be a useful component in schools trying to improve the nutrition and health of their students."
According to JAMA the Journal of the American Medical Association and CDC Childhood obesity is a serious problem in the United States. Despite recent declines in the prevalence among preschool-aged children, obesity among children is still too high. For children and adolescents aged 2-19 years, the prevalence of obesity has remained fairly stable at about 17% and affects about 12.7 million children and adolescents for the past decade.
The strategy of using prizes as an incentive on kid's meals has been used for years by Process food companies and Fast Food restaurants to make certain foods more fun so why not healthy foods.
About Author