Trick or Treat – 9 Dye-Free Candies For A Healthy Halloween Season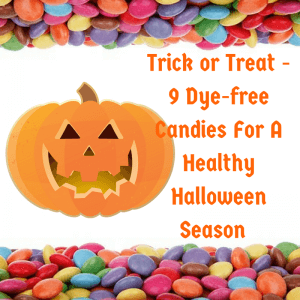 The History of Halloween dates back as far as 100 years in several countries including the U.S. It's a time where kids can dress in their favorite costumes and indulge in eating candy much to the chagrin of parents. Unfortunately, today parents just don't have to worry about the sugar affecting the teeth of their kids but most of the candies out there are still filled with food dyes that are linked to hyperactivity in kids and cancer. However, this Halloween we put together a list of 9 free-dye candies that take the fear out of the holiday horror for all you health conscious parents out there.
1. Surf Sweets Sour Worms —  are Non-GMO Project Verified gummies made with organic ingredients individually packaged that satisfies those trick or treaters in search of a sweet and sour tasting candy.
2. Surf Sweets Spooky Spiders — are gummy treats made with colorants derived from fruit, vegetables, and spices. They're made with organic sweeteners right here in the U.S. by a socially responsible candy maker which doesn't use artificial dyes in their product.
3. YummyEarth Organic Lollipops — are lollipops that are chemical-free and organic. They're popular in the U.S. and overseas because they're made from Israeli sugar beets, coloring from purple carrots, pomegranate extract, organic pumpkins, and black currants instead of genetically modified corn syrup and petrochemical fake food dyes.
4. Maple candies — are 100 percent made from organic maple syrup, which has some potential health benefits for kids and is nutritionally better and less processed than refined sugar. These candies are not individually wrapped, so you'll have to save them for trick-or-treaters you know very well.
5. Trader Joe's Organic Pops — are lollipops that are found at Trader Joe's. They're individually wrapped and are made from natural food coloring from vegetable colors, specifically red cabbage, purple carrots, turmeric, and annatto.
6. Yummy Gummy Candies — are free of common allergens like peanut, gluten, and soy and is also free of dyes, corn syrup, GMOs and more.
7. Surf Sweet Jelly Beans — are made with organic sweeteners and organic fruit juice, they're fun for kids of all ages. They include a variety of fruit flavors in every bag, including 100% of Vitamin C per serving, these jelly beans are perfect for trick or treaters on Halloween.
8. TruJoy Candy Canes —  are peppermint candies made without corn syrup which is a great start. TruJoy's might be hard to find before the month of November but you can stock up for next year.
9. Lovely Candy Caramels — are great in recipes for Caramel apples, homemade turtles, turtle pretzel bon bons, caramelitas, and homemade caramel ice cream topping. They also come in different varieties of the caramels as well – chocolate caramel, caramel apple, etc. Now you probably won't be able to hand this out to trick or treaters that show up at your door but you can prepare them at home for your own kids before you take them trick or treating.
In summary, If I missed any dye-free candies in the marketplace that your kids love, please feel free to add them to the comments below, I'm sure other parents would love to know what else is out there.  And remember, read labels of all foods especially candy before giving them to your kids.
Happy Halloween!!!
About Author