My Fruity Faces was started by a couple of Dads who were inspired by their children to solve a problem they were having along with many parents all across the country. How do they get their kids to make healthier eating choices during snack time?
The concept was to design stickers with various facial parts that kids could mix and match to create a variety of faces – similar to the concept of "Mr. Potato head!"
Inspired by children for children the Dad's reasoned if cartoon images can help the process food industry sell more cookies, chips, and ice cream, why not take the same approach and use it for healthy eating with real nutrient-rich fruit and vegetables. That's when they had the idea of My Fruity Faces the Edible Stickers™  stickers which make eating fruit and veggies fun, exciting, and engaging for kids.
Until now, most parents believe that getting children to adopt healthy eating habits is on a par with achieving cold fusion. My Fruity Faces was created to be the link between healthy eating and an active lifestyle among children. Several studies including a Cornell University study shows pairing fruit and popular cartoon characters increase consumption of healthy eating. My Fruity Faces offers Edible Stickers™  stickers, to help kids develop healthier eating habits with our 100% Made in the USA Edible Stickers™ stickers kids now enjoy eating fresh fruit and veggies. In fact, our stickers are just the ticket to encourage your kids to make healthier eating choices……Pssssst just don't tell the kids!!! The best part is the more they play with My Fruity Faces, the more fruit and veggies they consume.
Got a picky eater in the house? Let em play with their food and stick one of our Edible Stickers™ stickers on a fruit or vegetable, and watch it work its magic. As an added bonus, they make great party gifts and educational tools for teachers and therapists who offer occupational and speech therapy for children.
So Many Stickers To Choose From! (*All Available in All-Natural ingredients)
Licensed Characters of kids favorite television shows, movies, sports team, etc. coming soon!!!
If you're a resident in Southern California, you can find our Edible Stickers™ stickers in select Wal-Mart Supercenters or you can place an order online today.
---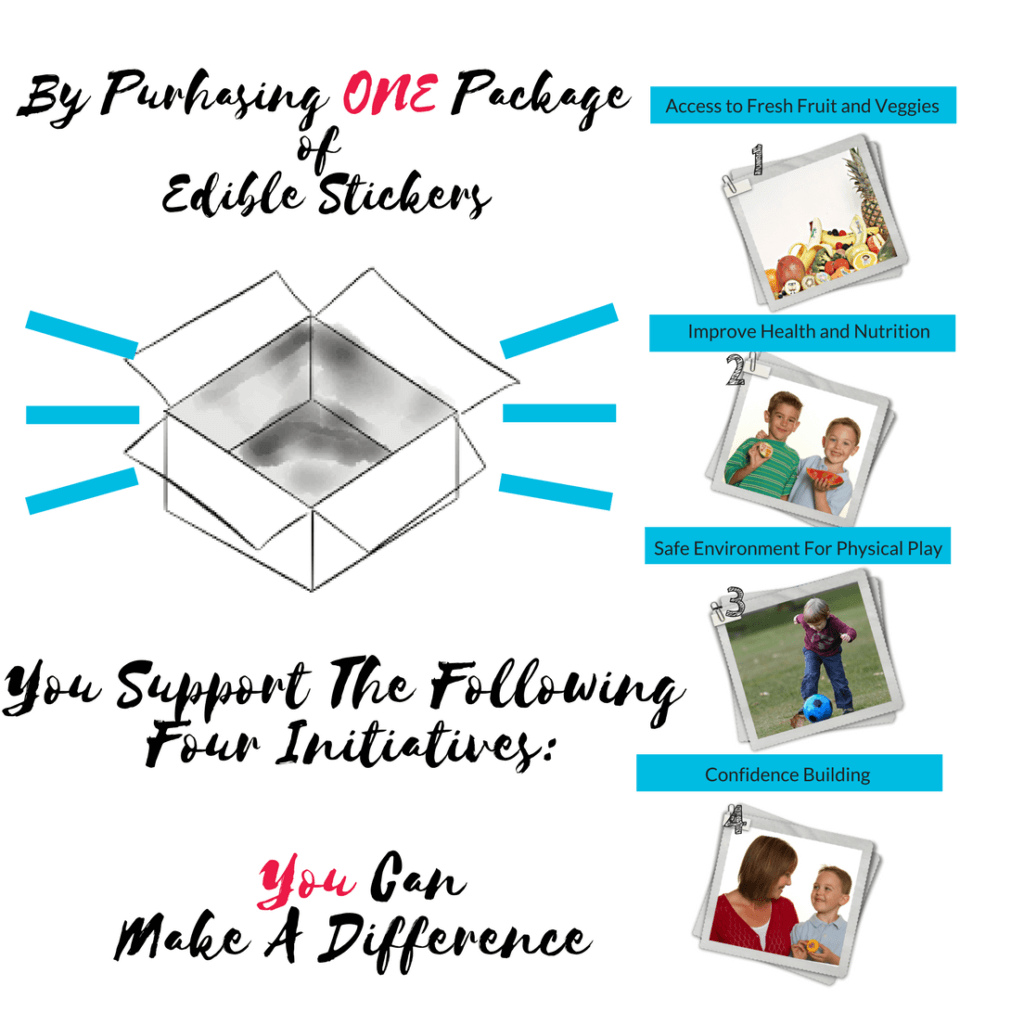 Our Own Original Characters:
–

Buddy Bites
Meet the Buddy Bites Casts
Crunchy – loves carrots, surfing the sea and singing off key
Munchy – loves cucumbers, riding bikes and mountain hikes
Slurpy – loves tomatoes, climbing trees and riding skis
Yummy – loves apple slices, pogo sticks and magic tricks
Scrumptious – loves peppers, running races and fruity faces
+

Groovy Girls
Meet the Groovy Gals Casts
Tilly Tango – loves fresh mango, skateboarding fast and having a blast!
Cutie Fruity – loves green apples, swinging high to touch the sky
Pollyanna – loves bananas, jumping rope and cantaloupe
Kerry Berry – loves strawberries, climbing trees and shopping sprees
Bella Stella – loves red apples, dancing fun and shining sun
Sparkle Ellen – loves watermelon, flying kites and starry nights
+

Monster Munchies
Meet the Monster Munchies Casts
Blabber Blob – loves oranges, scaring cats and silly hats
Nosey Nat – loves plums, wiggle worms and bugs that squirm
Spooky Spike – loves pineapple, rattling bones and munching stones
Ollie Eyeballs – loves pears, sliming folks and telling bad jokes
Toothy Tad – loves kiwis, chasing bats and kissing rats
BooBoo Biggie – loves papaya, frightening ghosts and marshmallow roasts
+

Playful Pets
Meet the Playful Pets Casts
Itty Bitty Kitty – loves bananas, chasing mice and playing nice
Merlin Mouse – loves berries, tap dancing and fast prancing
Pomfrey Pup – loves fruity slices, doggie paddling and skedaddling
Doozey Dog – loves apples, chasing cats and baseball hats
Callie Cat loves every fruit, yoga moves and music grooves